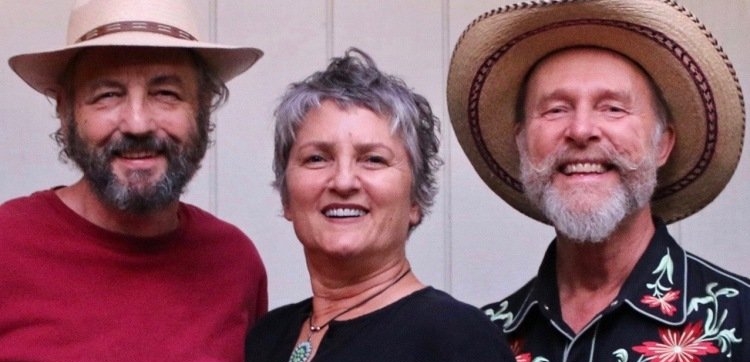 Date
Feb 01 2020
Expired!
Way Old West (a reunion of the trio Way Out West)
WAY OLD WEST (a reunion of the trio Way Out West)
featuring Joe Craven, Tracy Walton and Bill Edwards
SATURDAY, FEBRUARY 1, 8:00 PM
String and percussion wizard Joe Craven, singer and strummer Tracy Walton and guitar-tickling wordsmith Bill Edwards are back together. The dynamic trio that was Way Out West from 1985-1992 will be making   rare appearance at the historic Nevada Theatre on Saturday, February 1.
Way Old West is a highly original Americana roots music trio that was born out of a multi-culti mashup up of re-imagined covers, sparkling originals, thrift stored fashion-insulted presentation along with bargain bin humor. A popular attraction from the 1980s and 90s they have now (under a self-perception of extreme pressure from the general public and inspiration from Frank Sinatra) dusted off their now tighter-fitting WOW wardrobe to make a rare appearance of shows for 2020. They were a popular attraction in Nevada City / Grass Valley and, miraculously, will be returning through the good graces, if not compassionate allowance, of Paul Emery.
Once again in the saddle Way Old West are Tracy Walton (Mumbo Gumbo / The Cups / Walton, Webster and Edwards) Bill Edwards (Chris Webster) and Joe Craven (David Grisman, Jerry Garcia, Alison Brown, David Lindley, Painted Mandolin and Joe Craven & The Sometimers… just to name a few).
Take a trip down memory lane or experience them, at your own risk, for the first time. Chances are very good that you and your friends will enjoy yourselves immensely.