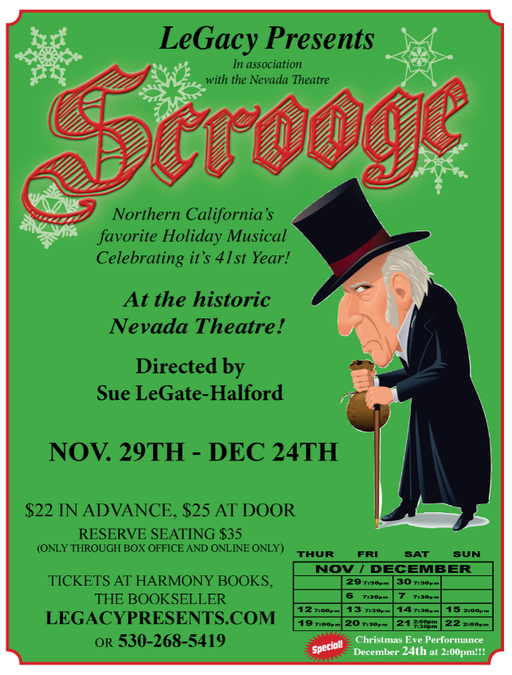 Legacy Productions Presents Scrooge
November 29 through December 24
7:00 PM Thursdays (Dec. 12 & 19)
7:30 PM Fridays and Saturdays
2:00 PM Sundays (Dec. 15 & 22)
2:00 PM Special Saturday Matinee Dec. 21
2:00 PM Closing Thursday Matinee Dec. 24
LeGacy Presents is proud to bring back to the Nevada Theatre Rodger Hoopman's SCROOGE. This unique and musically-colorful version of the Dicken's classic, A Christmas Carol, has been delighting audiences for 41 years, and for 4 years running on the Nevada Theatre stage, with Hoopman in the title role since the beginning.
Directed once again by Sue LeGate Halford, this is a must-see for the complete Nevada City Christmas experience. Alongside Hoopman will be returning LeGacy cast members Mike Busse (Mr. Fezziwig and Old Joe), Darrell  Hovander (Bob Cratchit & one hilarious undertaker), Ward Thompson as Marley and the Chief Coroner, Alexis Phillips (Belle), Kassady Kelly (Mrs. Fezziwig & Mrs. Dilber), Robert Peters as Michael, and Sawyer Maddux.
Choreography by Dinah Smith, light design by Les Solomon, costumes by Kathi Kimmel (original by Sharon Sciabica), and musical direction by Beverly Marks.
Adding new sparkle to the show are Candace Searles as Mrs. Cratchit & Ghost of Christmas Past, Rik Augustin as Fred, Ian Swift as Christmas Future, Connor McGehee as young Ebenezer, and Carlyn Forest as Martha, Jhastar Illumine as Boy Scrooge, Arianna Romain as the Charwoman, Hope Searles as Sarah, and Lhariya Illumine as Tiny Tim.
Special holiday entertainment before the show with caroling by soprano Vicki Fortini.
Ticket Prices
$22 in advance
$25 at the door
$35 Reserved seating (box office or online only, please)
Tickets available at The BookSeller and Harmony Books
Questions & to order by phone:
530-268-5419
For more information visit www.legacypresents.com