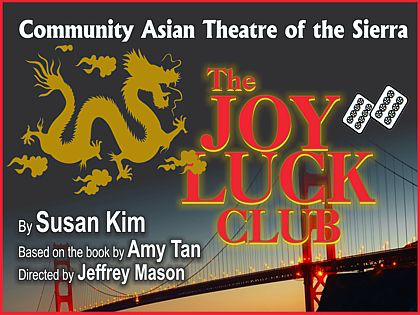 Date
Apr 21 2022
Expired!
Community Asian Theatre of the Sierra presents The Joy Luck Club!
The Joy Luck Club, written by Susan Kim, based on Amy Tan's best-selling novel, and directed by Jeffrey Mason, tells a series of interconnected stories about Chinese mothers, their American-born daughters, and the people who complicate their lives. It is an uplifting story of four remarkable friends whose extraordinary lives are filled with joy and heartbreak. Their lifelong friendships reveal a mosaic of startling events and conditions that shape their lives — and how these experiences affect the hopes and dreams they hold for each of their children.
The play takes place in China and America from the early 20th century to 1987. The Joy Luck Club plays at the Nevada Theatre in Nevada City, California, from April 21 to May 14, 2022.  The play is appropriate for ages 13 and up.
Thurs April 21, 7 pm
Fri April 22, 8 pm
Sat April 23, 8 pm
Sun April 24, 2 pm
Thurs April 28 87 pm
Fri April 29, 8 pm
Sat April 30, 8 pm
Sun May 1, 2 pm (Meet Amy Tan!)
Thurs May 5, 7 pm
Fri May 6, 8 pm
Sat May 7, 8 pm
Sun May 8, 2 pm
Thurs May 12, 7 pm
Fri May 13, 8 pm
Sat May 14, 2 pm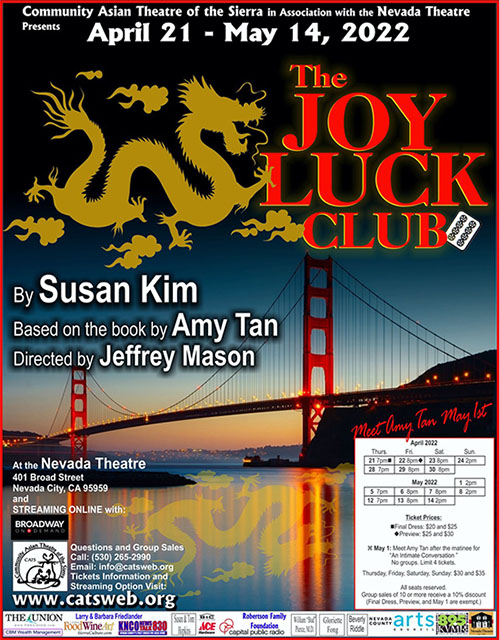 Regarding the May 1 matinee with Amy Tan, the access code is Amy2.
Author Amy Tan will speak after the show in "An Intimate Conversation." There will NOT be a book signing. Tickets are limited to 4 due to the demand. An access code is NOT required for the other shows. For groups of 10+ for the other shows, please contact 
info@catsweb.org
 for the group discount.
The Opening Night Gala Reception after the Saturday, April 23 show is canceled due to the pandemic.
There are no refunds or exchanges, so please choose carefully. Thank you!
PUBLIC HEALTH COVID-19 PROTOCOLS
: Proof of vaccination is required at the door for admission, either showing us your vaccination card (or a copy) or showing us digitally on your phone, along with a government-issued ID. Presenting a negative Covid test is not sufficient. Masks must be worn at all times at the show, as there will be no social distancing. If patrons and their guests cannot agree to these guidelines, we suggest purchasing a ticket to stream a pre-recorded performance through Broadway on Demand instead. The link is on the CATS website at
www.catsweb.org
. If you or your guests are sick on the day of the show or have tested positive recently for Covid-19, please do not come.
Ticket sales for The Joy Luck Club will be available on February 21, 2022.