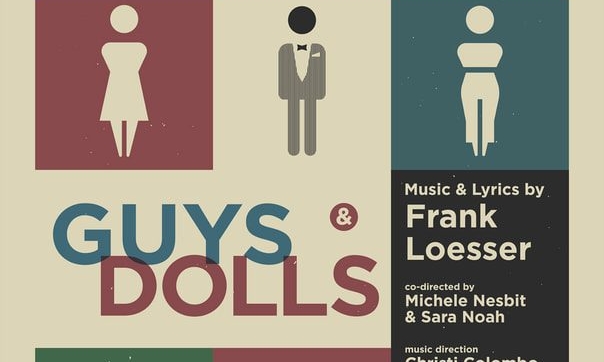 Date
Jul 13 2023
Expired!
Sierra Stages presents Guys & Dolls
Thursdays, Fridays, and Saturdays at 7:30 pm
Gambling gangsters, missionary gals, and saucy showgirls take the stage in Sierra Stages production of Guys and Dolls, running from July 13 – August 5 at The Nevada Theatre. Based on the stories of Damon Runyon, this musical masterpiece features a treasure trove of beloved songs, including the classics Luck Be a Lady, If I Were a Bell, and Sit Down, You're Rocking the Boat.

Guys and Dolls centers around two charming (if not entirely functional) couples: the idealistic Sister Sarah Brown who finds herself falling for the gambling ne'er-do-well Sky Masterson, and the long-suffering showgirl Miss Adelaide who simply can't get her gangster boyfriend Nathan Detroit to commit. With music and lyrics by Frank Loesser, this ebullient musical brings the characters of a raucous New York City in the 1940s to life.
Considered by many to be the perfect musical comedy, his enchanting rom-com will sweep you off your feet and have you laughing along the way!