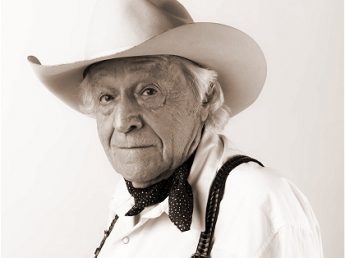 Date
Nov 04 2023
Expired!
Ramblin' Jack Elliott and Rainy Eyes
Saturday, November 4, 7:30 pm
One of the last authentic links to the great folk traditions of America, with over 40 albums under his belt, two-time GRAMMY-winner Ramblin' Jack Elliott is considered one of the country's legendary foundations of folk music. Long before every kid in America wanted to play guitar — before Elvis, Dylan, the Beatles, or Led Zeppelin — Ramblin' Jack had picked it up and was passing it along. From Johnny Cash to Tom Waits, Beck to Bonnie Raitt, Ry Cooder to Bruce Springsteen, the Grateful Dead to The Rolling Stones, all pay homage to Ramblin' Jack Elliott. In the tradition of roving troubadours, Jack has carried the seeds and pollens of story and song for decades from one place to another, from one generation to the next. They are timeless songs; his tone of voice is sharp, focused, and piercing; he plays the guitar effortlessly in a fluid, flat-picking, perfected style.
Rainy Eyes (Irena Eide) is a Norwegian-born Americana singer-songwriter. She relocated from California to Louisiana in 2020. Rainy Eyes has been writing music, performing and touring throughout the US for the past decade, both solo and with her band where her performances have a spellbinding, inspiring effect and a soulful, timeless sound with tight-knit harmonies and thoughtful songwriting.