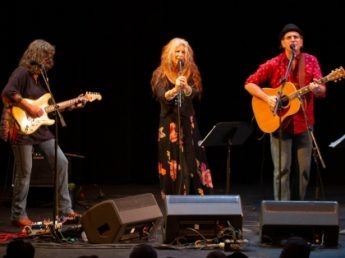 Date
Oct 15 2022
Expired!
Paul Emery presents Nevada City Live! Paul Kamm and Eleanore MacDonald with Nina Gerber
Saturday, Oct 15, 8:00 PM
Modern folk musicians Paul Kamm and Eleanore MacDonald, from Nevada City, CA., have been writing and performing original, contemporary folk music for over three decades. A blend of contemporary and traditional styles, their music is graced by exquisite harmony, compelling songwriting, deceptively simple arrangements, and intricate guitar work… all embraced by great heart. They've been applauded throughout the US as well as overseas for the lyrical content of their songs and vocal blend…a haunting style that weaves unique harmonies into a rich tapestry of guitar work and storytelling.
After carving a career out of what some might call the shadows, guitarist Nina Gerber is at last beginning to dare the light. Her first album as a leader, Not Before Noon, follows two decades that brought her to prominence without ever placing her name on the front of an album cover. Since her accompaniment of Kate Wolf first earned her recognition, her acute skills as a performer, producer, and arranger have continued to deepen. Her contributions to acoustic music have earned her a following as loyal as the numerous high talents she has accompanied – proving the shadows equal to the spotlight in the creation of honest, powerful, and beautiful music.