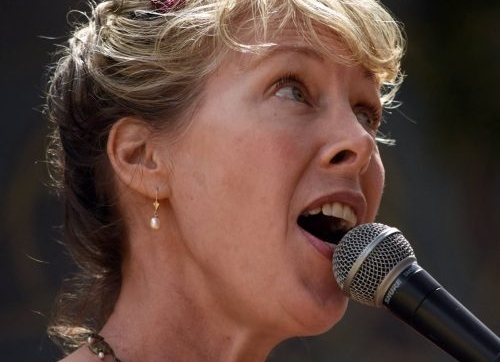 Date
Nov 11 2022
Expired!
Paul Emery presents Nevada City Live! Elena Rayo – The Music of Joni Mitchell
Friday, Nov 11, at 8:00 PM
Elena Rayo hails from the Midwest, is a middle-class scholar, with a Cambridge master's degree, and a classically trained violinist from the age of five. Elena's songs engage with heartfelt lyrics and entrancing melodies.
"While my husband Saul was very ill and dying of cancer over the past 2 and 1/2 years he would often ask me to sing for him. The songs he requested most were my originals — especially the ones I had written for and about him, so very Saul! — and those of his favorite songwriter, Joni Mitchell.
As a singer-guitarist, learning Joni is very challenging and very satisfying to me. Naturally, she has written some of the most beautiful and emotional songs ever recorded. Beyond that, even from a very young age her melodies and guitar patterns were very sophisticated. To really do Joni justice, I have had to dive deeply into her unusual guitar tunings, which she developed for herself from having a slightly crippled left fingering. Her right-hand picking/strumming hand is very strong with a syncopated style and combines many different techniques. On top of these complex musical patterns, her voice soars in gorgeous melodies with a six-octave range. Learning to do those parts has brought me to a whole new level of ability, that's for sure!"
Tickets https://ci.ovationtix.com/35912/production/1138131
More info https://paulemerymusic.com/elena-rayo-the-music-of-joni-mitchell/