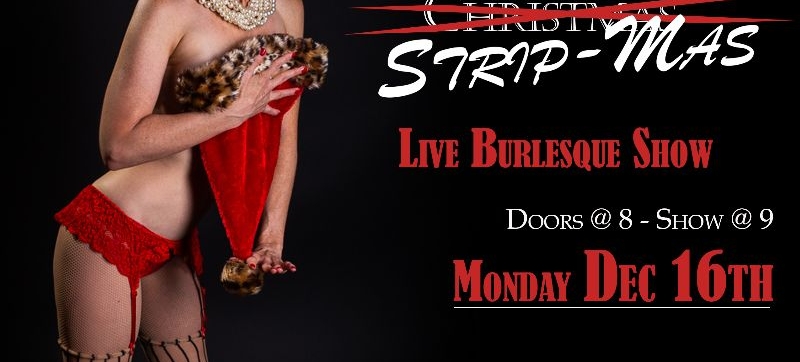 Date
Dec 16 2019
Expired!
Nevada City Cabaret ~ Naughty & Nice Strip-Mas
Monday, Dec 16th
7:00: Lobby & Drinks open
7:25: Theater Doors
8:00: Show Time!
Nevada Theatre
401 Broad Street
Nevada City, CA. 95959
Tickets: $20 in advance, $25 at the Door
Tickets sold through Eventbrite:
https://www.eventbrite.com/e/nevada-city-cabaret-naughty-nice-strip-mas-tickets-72756940969
21 and up event with a craft cocktails by the fabulous Golden Era available during the show and at intermission
—————————————————————————————
Christmas is Coming!
With a wonderland of hot chocolate, presents, family time, candy, cookies, and lights! This year, we are thrilled to be performing once again at the majestic Nevada Theater!! The show is a fast-paced, Holiday thrill ride with comedic performances, Santa baby and his delectable, along with divine and dazzling cabaret dancers. Dancing this electric never felt so good to watch–you'll laugh, applaud, and be inspired to kick up your heels.
Truth or Dare thinks burlesque and Christmas are the perfect combinations. Burlesque is all about having fabulous fun, dressing up, enjoying yourself with family and friends plus It's got a great dash of humor and satire, so it gets everybody laughing. That's really what the holidays are about.
Truth or Dare performers give a fun, playful new meaning to holiday decorating in their brand-new Christmas revue, Naughty & Nice Strip-mas. The voluptuous, spicy and funny starlets of this retro feel-good cabaret are regarded by many as the best burlesque in town!
Truth or Dare will be debuting some brand spanking new performances, a few out-of-town performers and throwing down with our lovely classic local performers. We bring you Happy Holiday Cheers that will make your heart sing in this month's Nevada City Cabaret. And Holy Smokes this show will jingle all the way. Get ready for quite the spectacle and oh how fabulous it will be my friends! You don't want to miss this production cause we'll be taking this holiday season to an all-new level. For that reason we have jam-packed this show, and, we over-packed this one to the roof with amazing performers!!
We cordially invite you and everyone you know to a provocative, entertaining, and spectacularly jolly cabaret Christmas event on Monday, Dec 16th. If you haven't been to a Monday Cabaret event now is time to jump in because we will be pulling out all the stops to get you ready for the holidays! Back with a vengeance and ready to slay the stage for you once more on this Monday night!
Grab your caroling friends, throw on that sexy winter coat & Christmas hat! Show up at 7:00 to have a delicious craft cocktail (or two) made by Golden Era Lounge while mingling in the foyer. Theatre doors will open at 7:25 to take your seats.
At 8:00 p.m. the real fun begins with a captivating ride chock-full of sensationally sexy acts and naughty fun featuring burlesque and cabaret dancers, with outlandish performances and costumes. Come let loose and give in to absolute pleasure because this will be one hell of a saucy night you'll never forget!
Merry Strip-Mas, Ho, Ho, Ho!!
————————————————————————————–
Cast:
Nick Fedoroff Magician and Host
Burlesque Reveals & Debuts by:
Danngerous
Lady Katnip
Leon G. Ray
Mantastic
Cybil Unrest
Guy Vigor
Chris Marcum
Jackson Spade
Roxie Rochambeau
Illegally Blonde
Vixi Vale
And more!!
—————————————————————————————
For more information on the performers or upcoming shows follow Truth Or Dare Productions on https://www.facebook.com/events/2533158576919059
Facebook and Instagram
Find us @truthordareproduction
Truth Or Dare Productions
—————————————————————————————–
For more information about the show or for inquiries about performing in Monday Cabaret send an email to truthordaredance@gmail.com