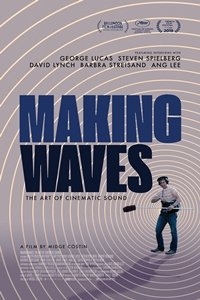 Date
Dec 29 2019
Expired!
MAKING WAVES: THE ART OF CINEMATIC SOUND
Sunday, December 29, 7:00 PM
Genre: Documentary Runtime: 1 hr. 34 min.
Few realize that sound is 50% of the cinematic experience. Building on the pioneering sight-and-sound discoveries of iconic filmmakers, this documentary features the first generation of recognized Sound Designers who designed great movies with sound before a frame was shot. The film explores the collaborative relationship between Sound Designers and the visionary directors they work with by entering their creative realms via interviews and clips from their movies. EVERYONE is in this film – George Lucas, Steven Spielberg, Robert Redford, David Lynch, Barbra Streisand, Peter Weir, Ang Lee, Christopher Nolan, Sofia Coppola, and Ryan Coogler – and the sound men and women with whom they collaborate. Check out the latest discoveries and advances in sound technology and learn how sound transforms not only the cinematic experience but also our lives."Making Waves pays an all-too-rare tribute to an aspect of filmmaking that's utterly fascinating but often overlooked." –Critics Consensus, Rotten Tomatoes."Pretty Irresistible." –Mark Feeney, Boston Globe.
For more information visit SierraTheaters.com