Date
Jun 24 2022
Expired!
The Super Nova Circus and Variety Show presents the Enchanted Forest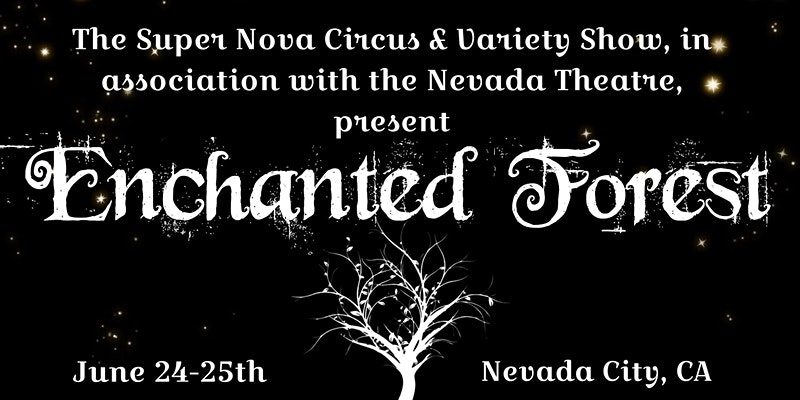 The Super Nova Circus & Variety Show returns to the Nevada Theatre for an encore performance of the "Enchanted Forest!"
About this event
On June 24th and 25th, at the historic Nevada Theatre in downtown Nevada City, prepare to be enchanted and entertained as you enter a realm of magical possibilities and whimsical wonders!
Returning to the stage following their sold-out January show, The Super Nova Circus & Variety Show, in association with the Nevada Theatre, is proud to present *three* more performances of the "Enchanted Forest!"
Featuring Northern California's finest talents and distinguished guests from the lands beyond! Join us on this journey, leaving no leaf unturned, as we encounter witches & wizards, sprites & spirits, and all matter of fantastical creatures from the deepest of depths to the tallest of clouds…
Introducing:
Haunting Aerial Acts!
by Cola Claret & KC Hyland
Hand-Balancing Wizardry!
by Fleeky Flanco
Majestic Pole Performance!
by Featherpistol
Hypnotic Bellydance!
by Nathalie Tedrick
Magic and Wonders!
by Tobias Weinberger
And more incredible, astounding talents to be announced!!
All ages are welcome!
On Saturday, we will be offering a mini afternoon matinee (about 60min in length), for those families with *little* little ones and early bedtimes. Our evening productions, Friday and Saturday, will be full-length (about 2hrs including intermission)- children, adults, and woodland spirits are all welcome to attend! Please be mindful of selecting the correct date and time during ticket purchase!
Thank you all for supporting the arts and live entertainment, especially after such a long hiatus. Your continued patronage helps to keep these world-class artists on stage and their sacred crafts alive! Without such support, many rare art-forms risk fading away into mere myth- so let's keep our circus and strange performance arts in the spotlight, thriving!
Book your tickets today… the magical Enchanted Forest awaits!!