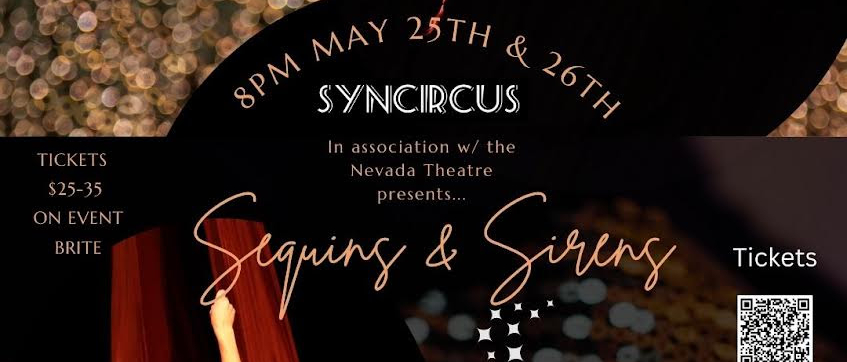 Date
May 25 2023
Expired!
Syn Circus presents Sequins and Sirens
Thursday, May 25
Friday, May 26
8:00 pm
An evening of Aerial Burlesque magic hosted by the seductress Vixi Vale, at the gorgeous historic Nevada Theater!
Follow Syn Circus and their cohorts into the realm where they shine the brightest- In the air, on the ground, and taking it all off! Directors Alayna Stroud Duarte & Jerusha Victoria have led this group of talented performers on an 8-week journey from pre-professional students to the polished professional Aerial Burlesque troupe you are about to witness as they rock your socks off! At the very least, THEIR stockings will be coming off, as well as most of the rest of the sundries draping them. All this while they swing, spin, sing, and dance with the utmost skill. This is a rare opportunity to see seasoned professionals as well as some fresh talent stepping gracefully into the limelight for the very first time!
Theater doors open at 7:30 pm. The show is at 8 pm. Come early to grab a drink from our bar provided & pick the best seat in the section you have chosen, then enjoy as we seduce and amaze you in a night of unparalleled glamor and raw sexiness!
Tickets HERE
$35 premium reserved seating
$25 general admission
More info HERE