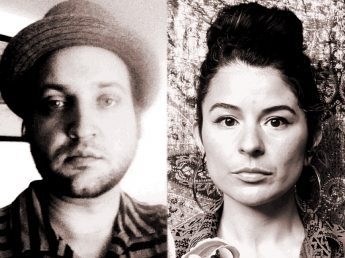 Date
Feb 11 2022
Expired!
Paul Emery presents Mariee Sioux and Aaron Ross
Friday, Feb 11 at 8:00 pm
Nevada County songwriters Mariee Sioux Sobonya and Aaron Ross bring solo sets to the refurbished Nevada Theatre.
Mariee Sioux Sobonya grew up surrounded and deeply touched by music—often going to bluegrass festivals and listening to her father's bluegrass band—but held no particular personal musical ambitions. However, she taught herself to play the guitar at 18 and she continued fingerpicking and writing songs and made two home-recorded albums purely at the urging of friends. In 2007 she released her first studio album, Faces in the Rocks, on which she collaborated with Native American flutist Gentle Thunder and which achieved a dedicated cult following that would propel her career to this day. She began touring Europe as well as North America and has continued ever since.
The songs continue to come to Mariee Sioux, and her approach as a singer continues to mature. The flowing melodies and quivering vibrato of her voice, as well as the poetry itself, continue to locate themselves and their work with a more solidly grounded precision as to just what that work is. Her most recent songs most deeply reflect this clarity of vision and acceptance of both her role as an artist and the endless need for that role in this changing world.
Aaron Ross has been a force for eclecticism since his time with math rock band Hella (with Zach Hill of Deathgrips and Spencer Seim of sBACH and The Advantage), and his solo trajectory has reflected a constant drive for innovation since his first release, The Hallelujah Side in 2003. His musical path is almost schizophrenic in its complexity, uncompromising innovation, and drive to involve more nuance, layers, and mystery with each successive release. But the man himself has eschewed the spotlight to some extent. Impose Magazine calls him 'bugged out in a backwoods way…' and indeed his catalog vacillates in and out of the deeply organic blues-folk of the Sierra Foothills, and the very synthetic, playful and even absurd, here reminiscent of Mick Jagger, there warbling esoteric in the vein of fellow Nevada City native Joanna Newsom.

$20 general admission
$30 reserved seats
We are abiding by Nevada County Public Health requirements for all shows.
Masks are required at all times. Proof of vaccination or negative COVID test taken within 48 hours of the event is required for entry.