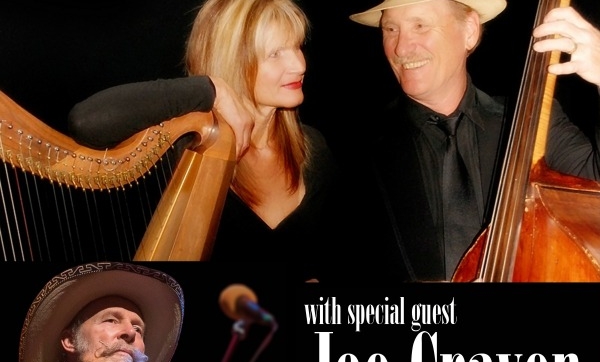 Date
Jan 29 2022
Expired!
Paul Emery presents Christine and Rob Bonner with Joe Craven
Saturday, January 29 at 8:00 pm
Christine and Rob Bonner will be joined by their friend and world-renowned multi-instrumentalist, Joe Craven, on violin, mandolin, and percussion.
Folk harpist, Christine Bonner, is a stunning harpist who has performed for many years in concerts and special engagements throughout the West Coast. Many of Christine's compositions are inspired by her early California ancestors, the Berryessa family.
Rob Bonner is a self-taught guitarist, with extended talents in bass guitar and violin. His moving compositions are heavily mused of experiences and memories of his tour to Vietnam.
After safely returning to the United States in 1972, Rob formed the South Loomis Quickstep Band with fellow super-pickers, Joe Craven and Mark O'Connor. The group boasted a unique style of solid bluegrass, along with firmly rooted traditional music of southern Appalachia.
Joe Craven is not just an entertaining musician with a penchant for the mischievous, he is a teacher and student all at once. He's known for reimagining existing music with reviews such as, "this is either sacrilege or The Second Coming." Whether with corporate heads in Contra Costa, young men in a juvenile detention center, homeless shelter families, a university lecture in wherever, jamming with Gnawa musicians in Morocco, on stage at Carnegie Hall with Stephane Grappelli, on stage with an angel food cake pan in front of thousands of school kids in Scotland… no matter who and what Joe's connected with, he's at home and loving every minute.
For more info: https://paulemerymusic.com/rob-and-christine-with-special-guest-joe-craven/
Tickets: https://ci.ovationtix.com/35912/production/1097402
Tickets
$25 General Admission
$35 Reserved Seats
We are abiding by Nevada County Public Health requirements for all shows.
Masks are required at all times. Proof of vaccination or negative COVID test taken within 48 hours of the event is required for entry.