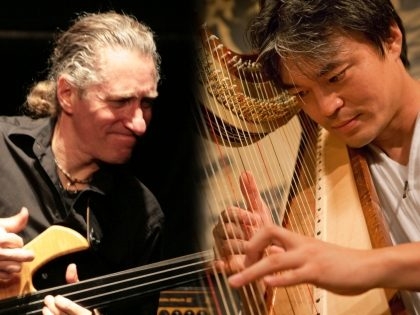 Date
Feb 11 2023
Expired!
Motoshi Kosako & Michael Manring
Saturday, February 11 at 7:30 pm
Paul Emery and the Sierra Jazz Society present
Motoshi Kosako & Michael Manring
with the Perry Mills Project opening
Jazz harpist Motoshi Kosako and fretless bass phenom Michael Manring join forces for an evening of extraordinary music.  Opening the show will be fusion guitarist Perry Mills (Objects in the Mirror) with his all-star band.

Motoshi Kosako was born in the sister city of Sacramento, Matsuyama City, Japan. Motoshi began his long pursuit of music at three years of age, with the piano, then continued with the guitar. His love of music has influenced his life deeply. In Japan all through his studies at The University of Tokyo, with university-level Judo competition, and in becoming a sushi chef, music was always a driving beat to his life. This drive and rhythm come through no matter what instrument he is playing. Whether performing for a private wedding or event or performing on stage with his electric guitar, his dedication and passion are always evident in the preciseness of his playing.
Hailed by many as the world's leading solo bassist, Michael Manring has been pushing back the boundaries of what's possible on the bass guitar for decades. While his technical skill and innovations always make an impression, it is his ability to communicate on a profound emotional level that most touches listeners. As editor Tom Darter wrote in Keyboard magazine after seeing one of Michael's solo concerts, "Forget his astounding technique and musicality; forget the absolute command of his instruments; forget how seamlessly the musical ideas and the performance of them were wedded together…The enlightenment came most from feeling (seeing, hearing) the joy Michael felt to be playing…his brand of transcendental chops and musical understanding…was all in the service of the final outcome, the joy of making music."