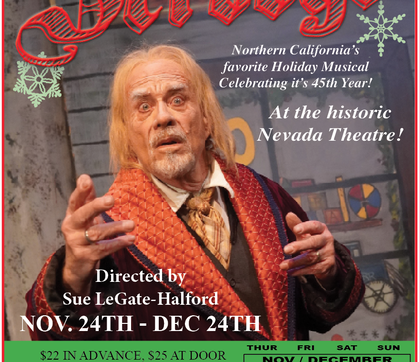 Legacy Presents Scrooge
Fridays and Saturdays at 7:30 pm from November 24th through December 24th.  One Thursday night show, on December 21st at 7 pm, and four Sunday matinees on December 3rd, 10th, & 17th, & special Christmas Eve closing matinee, on December 24th at 2 pm.
LeGacy Presents
 is proud to bring back the spirit of Christmas to the historic Nevada Theatre with the return of Rodger Hoopman's 
Scrooge
, 
November 24th through December 24.
The playwright, Rodger Hoopman, returns in his 45th year as Ebenezer Scrooge, that rascal of a Dicken's character, who, with the help of three spirits, repents his greedy ways, finding joy and love in the true spirit of Christmas.Joining Hoopman are LeGacy veterans Bruce Barnard (Ole Joe and Bob Cratchit), Jean Forsman (Christmas Past & Mrs. Cratchit), & Catz Forsman (Marley & Christmas Present). Alexis Phillips returns once again as Belle, young Ebenezer's love who he gives up for the "greater love of money". Phillips also takes a comedic turn as Mrs. Dilber, and an elegant turn as Fred's wife, Lilli. Raegan Wessinger, Jesse Hollister & Chris Whitlock return in multiple roles. A true "newcomer" is Wolfgang Newcomer playing young Ebenezer & Fred.
"Lots of returnees with some fresh faces, too…a delightful new Tiny Tim (Valencia McCraner) with new siblings (Heidi Ward & Joss Martinez)…everyone gets to play multiple parts….except for Scrooge! There can only be one of him!" Director/Producer Sue LeGate-Halford said.
LeGate-Halford added, "We are so lucky to have our original creative design team back, too. Beverly Marks on musical direction, Les Solomon on light design, and Elly Award winner Sharon Sciabica."
Tickets are $22 in advance and $25 at the door. Special reserved seating at $35.
Tickets available
HERE
 or by calling the box office at (530) 268 5419.