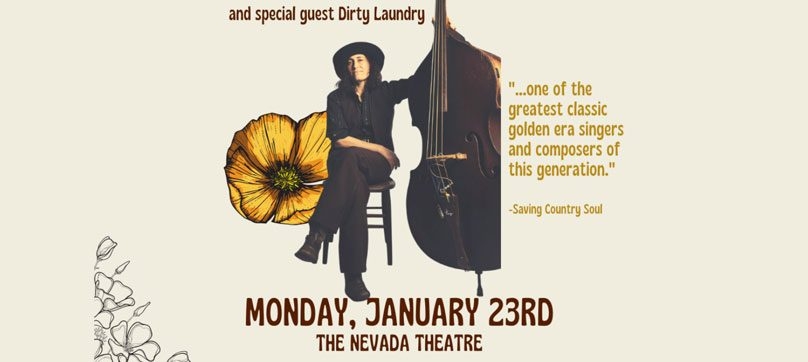 Date
Jan 23 2023
Expired!
Hatfly Productions presents Melissa Carper
Monday, January 23 at 7 pm
Join us at the iconic Nevada Theatre for a night of soulful country and western swing tunes with "HillBillie Holiday" Melissa Carper.
Tickets $20 HERE: https://www.eventbrite.com/e/melissa-carper-the-nevada-theatre-tickets-480259558267
About Melissa Carper
Carper's deep, old-timey music roots were firmly planted as a child, playing upright bass and singing in her family's traveling country band in rural Nebraska. Her love of country classics was cultivated as she laid beneath the console listening to her parents' record collection. Hank Williams, Patsy Cline, Loretta Lynn, Ray Charles, Elvis Presley, and more became the soundtrack of her youth.
Her newest album Ramblin' Soul features a co-write with life long ramblin' buddy and bandmate Gina Gallina, a song penned by friend and frequent collaborator Brennen Leigh; a reimagined classic from folk pioneer Odetta; and ten Carper originals. The album ventures into blues, early rock and roll, and old school soul, along with Carper's signature styles of country, western swing, and jazz.
Carper's lifelong, steadfast listening has come to fruition in the songs on Ramblin' Soul. Her childhood love of the family record collection planted the seeds of what is her own bountiful orchard today.
Not unlike Loretta Lynn, Melissa Carper is giving us scenes and stories and vignettes that kind of play out between home and the honky-tonk – NPR
Singer-bassist Melissa Carper sounds like a voice from a bygone era…Evoking the cool, smoky croon of a lounge singer, Carper gives some winking commentary about having a good time. – Rolling Stone Country